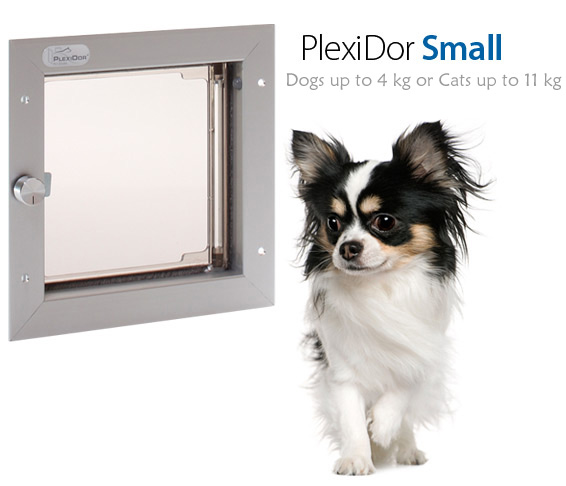 ---
Wall Applications
PlexiDor Wall Units can be installed into stud, brick, block or cement exterior walls up to 30 cm thick. Each wall unit includes an aluminum tunnel that connects the interior and exterior frame. The tunnel materials ensure a professional fit and finish that provides a quality appearance.
---
Small Wall Unit
(Item: PD WALL SM)
A single panel design, PD SMALL units open from left to right with precision smoothness. Even the smallest kitten or puppy can easily push open the door.
All four edges of the shatter resistant dual thermo-pane, hardened acrylic panel are equipped with the same high density, industrial grade nylon weather seal used on the larger units. This provides the highest level of energy efficiency compared to other small pet doors.
The spring loaded 4-way lock can be set to IN ONLY, OUT ONLY, IN AND OUT or LOCKED. Simply turn the knob to select. PD SMALL units do not come with a steel security plate.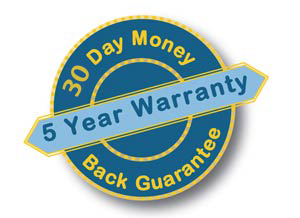 We know you will agree that a PlexiDor Performance Pet Door is the highest quality and best value in a pet door. If for any reason you are not completely satisfied with your purchase, just return it within 30 days and we will refund the purchase price in full. Shipping charges are not refundable.
PlexiDor is covered by a 10 year limited residential warranty. Any defective part will be repaired or replaced without expense including standard shipping service for 10 years from date of purchase. (Labor is not covered.)

Free shipping over € 59,99 incl.:Slovakia, Slovenia, Austria, Czech Republic, Romania, Croatia, Poland, Germany, Bulgaria, Belgium, Netherlands, Luxembourg, Denmark, France, Italy, Great Britain, Ireland, Lithuanian, Latvia, Spain, Estonia, Greek, Portuguese, Finland. For other European countries please contact us for shipping details. Sending a parcel with GLS means that it arrives quickly and safely (2 to 5 days)