Electronic Pet Door
(Door Unit: PDE DOOR LG) or (Wall Unit: PDE WALL LG)
When the pet door application at your home requires the ultimate in convenience and security, the PlexiDor PDE Electronic Pet Door is the choice of pet owners worldwide. The composite panel slides up and down like a mini electronic garage door and acts as a security door when inactive.
Using state-of-the-art RFID technology, the sensor reads the pre-programmed code to automatically open and close for your pet only - keeping other animals outside.
The waterproof collar key weighs just 11 gramms and snaps onto your pet's collar. The unit is adjustable to control how long the door remains open. The PlexiDor PDE plugs into a standard household outlet or can be hardwired. Easy to program and even easier to use, the PlexiDor PDE will provide years of enjoyment for your family and pet.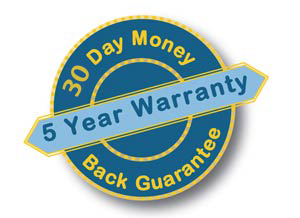 We know you will agree that a PlexiDor Performance Pet Door is the highest quality and best value in a pet door. If for any reason you are not completely satisfied with your purchase, just return it within 30 days and we will refund the purchase price in full. Shipping charges are not refundable.
PlexiDor is covered by a 10 year limited residential warranty. Any defective part will be repaired or replaced without expense including standard shipping service for 10 years from date of purchase. (Labor is not covered.)

Free shipping over € 59,99 incl.:Slovakia, Slovenia, Austria, Czech Republic, Romania, Croatia, Poland, Germany, Bulgaria, Belgium, Netherlands, Luxembourg, Denmark, France, Italy, Great Britain, Ireland, Lithuanian, Latvia, Spain, Estonia, Greek, Portuguese, Finland. For other European countries please contact us for shipping details. Sending a parcel with GLS means that it arrives quickly and safely (2 to 5 days)