How To Measure
We recommend the "Cardboard Test" to ensure the correct size for your pet. Using the OPENING SIZE measurement in the charts, cut a hole in a piece of cardboard, and see if your pet can pass through easily. Or wedge open a house door the OPENING WIDTH, and block off, the OPENING HEIGHT (starting just above your pet's shoulder) and your pet through. Pets duck their heads as they push open their door and step through it, so ideally you should install the pet door with the top of the opening just above your pet's shoulder. But any position will do as long as your pet can open the door and get through comfortably.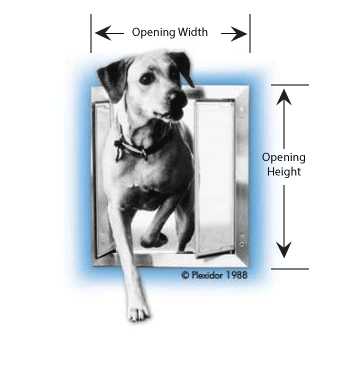 OPENING WIDTH: a little wider then the widest part of your cat or dog.
OPENING HEIGHT: measure from the top of the shoulders to the chest just behind the front legs.

---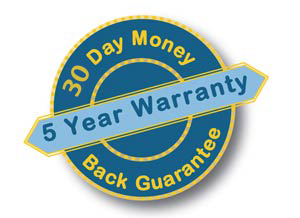 We know you will agree that a PlexiDor Performance Pet Door is the highest quality and best value in a pet door. If for any reason you are not completely satisfied with your purchase, just return it within 30 days and we will refund the purchase price in full. Shipping charges are not refundable.
PlexiDor is covered by a 10 year limited residential warranty. Any defective part will be repaired or replaced without expense including standard shipping service for 10 years from date of purchase. (Labor is not covered.)

Free shipping over € 59,99 incl.:Slovakia, Slovenia, Austria, Czech Republic, Romania, Croatia, Poland, Germany, Bulgaria, Belgium, Netherlands, Luxembourg, Denmark, France, Italy, Great Britain, Ireland, Lithuanian, Latvia, Spain, Estonia, Greek, Portuguese, Finland. For other European countries please contact us for shipping details. Sending a parcel with GLS means that it arrives quickly and safely (2 to 5 days)